Master Paul McPhail, 8th dan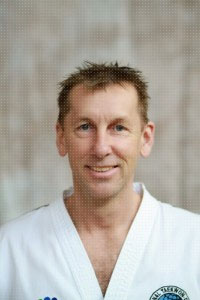 Master Paul McPhail began his training in 1975, a student of Mr Norman Ng in Palmerston North. He was promoted to 1st dan black belt at age sixteen, and later became assistant instructor to Master Evan Davidson at the Khandallah branch in Wellington. In 1985 he moved to Auckland to become a professional Taekwon-Do instructor. He started Auckland's third club (Manurewa) in February 1985, North Shore branch in April and Papakura branch in 1988.
Master McPhail began examining in 1988 on his promotion to 4th dan black belt. He attended international instructors courses conducted by the Founder of Taekwon-Do, General Choi Hong Hi. He is qualified as an International Instructor and A Grade International Umpire. In 1994 he was awarded the 'Outstanding Instructor Medal' from the International Taekwon-Do Federation. He was promoted to 8th dan in 2013. In 2015 he was made a member of the ITF Technical Committee.
Master McPhail authored several books which are used as the syllabus throughout New Zealand including the gup and dan syllabus books, the self defence handbook and the white belt handbook.
See Master McPhail full timeline here.
Master Steve Pellow, 7th dan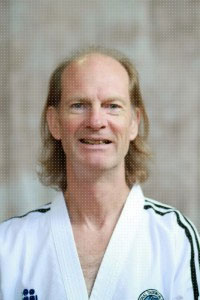 Master Pellow began his  Taekwon-Do training in September 1980. His first instructor was Mr Olly Olsen, a member of the South Pacific Taekwon-Do Federation headed by Master Young Ku Yun. From mid-1983 his second instructor was Mr Thomas Tamakore, and received his 1st Degree Black Belt on 12 June 1984.
In October 1984 he began instructing at Manurewa and Papakura and in June 1985  joined the Lim's Taekwon-Do group in Hamilton. In 1991 Willie Lim immigrated to the USA and Master Pellow and his students joined ITFNZ.
Since 1991 Master Pellow has attended 3 international instructors' courses, one conducted by the founder of Taekwon-Do General Choi Hong Hi. He has also attended numerous seminars and courses by international instructors such as Master Tom MacCallum, Master CE Sereff, Master Rhee Ki Ha, Master Choi Jung Hwa, Master Leong Wai Meng, Master Van de Mortel, Master Ung Kim Lan, Master Alberto Katz, Master Mark Hutton and Master Jerzy Jedut.
Since 1992 I have also worked extensively with Master McPhail developing and refining the national grading self-defense syllabus. 2006 saw the beginning of his involvement with the New Zealand National Taekwon-Do Team, culminating in being appointed the National Coach from 2010 until 2013.
Assistant Instructors
Miss Courtney Weir – Mini-Kids
Mr Bryan Reynolds – Juniors and Mini-Kids
Miss Layne George – Juniors and Mini-kids
Mr Kishan Mistry – Juniors and Mini-kids
Leadership Team
Current Team Members: Layne George, Jordyn Tuhiwai, Riana Brown, Brooke Childs, Terii Simpson and Liam Reynolds.
Mini-Kids Instructors
Monday Mini-Kids: Miss Courtney Weir assisted by Mr Bryan Reynolds and Interns Brooke Childs and Terii Simpson. Also assisting: Liam Reynolds.
Wednesday Mini-Kids: Miss Courtney Weir assisted by Mr Bryan Reynolds and Interns Riana Brown, Jordyn Tuhiwai and Layne George.
Thursday Mini-Kids: Miss Layne George – Mini-kids assisted by Mr Bryan Reynolds and Interns Terri Simpson. Also assisting Mr David Simpson.